Just because sensory activities are incredibly important for a child's development does not mean they can't also be extremely fun!
While all children can benefit from sensory play, these activities are particularly helpful for children with Autism as they can expose children to different sensory experiences to help them manage a variety of sensations and interactions.
Sensory activities are important for several reasons; they stimulate connections in the brain, promote language development, encourage problem-solving and self-regulation as well as help to build social skills and cope with anxiety.
We have pulled together a list of our favourite sensory activities to help engage your children in some fun, educational play!
Homemade Slime
Get messy with homemade slime!
Help your kids learn about the art of colour mixing: begin with a set of primary colours and encourage them to create new shades. Let your kids customize their slime with their choice of colour or even add glitter for extra sparkle!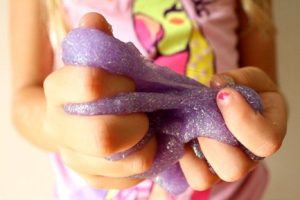 Photo Credit: https://bit.ly/3p5yG5r
What You'll Need:
· Measuring spoons.
· Measuring cup.
· Mixing bowl.
· 1 cup of warm water.
· 1 teaspoon borax.
· Glitter.
· 1 cup of glue.
· Wooden ice pop stick.
· Food colouring (optional.)
What you need to do:
1. Pour about a cup of clear or white glue into a mixing bowl. (Top Tip: If you want your slime to have more of a 'flubber' feel, add water to your glue.)
1. Measure out 1 cup of warm water into a jar.
2. Measure out 1 teaspoon of borax.
3. Add the borax to the warm water. Set the solution to the side.
4. Mix your glitter, glue, and food colouring & stir until combined.
5. Add1 tablespoon of water and borax solution to the mixing bowl of glue and stir fast.
6. Scoop out the slime from the bowl and knead until the slime is less sticky.
7. Keep kneading until slime consistency and enjoy!
Magic Milk
Conduct a little kitchen experiment using just milk and food colouring! Watch your child's eyes light up as they see the colours mix just like magic.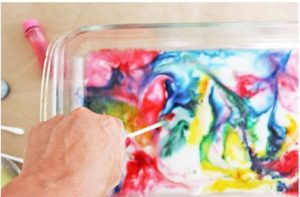 Photo Credit: https://bit.ly/3PcLGkr
What You'll Need:
• Milk (Full Fat for best colour explosions.)
• Dish soap.
• Cotton swab.
• Food colouring.
• Shallow plate or wide bowls.
What you need to do:
1. Fill a plate or bowl with milk.
2. Drop in at least 2 drops of each colour of food colouring. The more colours the better!
3. Generously dip the end of a cotton swab in dish soap.
4. Now dip the cotton swab into the milk next to a drop of colour.
5. Gently swirl the cotton swab through the different colours.
6. Continue until the colours begin to mix and become brown. Empty your plate/bowl and repeat.
Edible fingerpaint
Feel safe letting your little ones get as messy as possible with these edible fingerpaints! Your kids will love making finger tracks through the paint and feeling the texture of the paint between their fingers.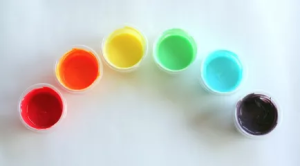 Photo Credit: https://bit.ly/3dn1dRy
What You'll Need:
• Plain Yoghurt.
• Natural Food Colouring.
• Paper.
What you need to do:
1. Simply combine your yoghurt with the food colouring to make your colour pallet.
2. Set up your paper and let your little Picassos get to work! Make sure to put down an old sheet, towel or newspaper as things are about to get messy.
Musical Shakers
Create a rain shaker with items from around the house! Challenge your kids to see if they can guess what is inside as they notice differences in the sounds made by various household objects!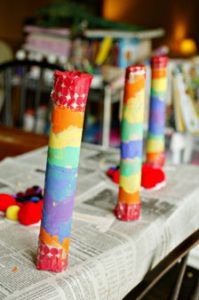 Photo Credit: https://bit.ly/3SEGKaY
What you will need:
• Fillers: Rice or pasta for example!
• Tubes, tubs, or bottles.
• Decorations
All you need to do:
1. Decorate your item in any way you want.
2. Fill with your noisy filling!
3. Get Shaking!
Create an Under Water World
Unleash your child's imagination and have them create their own underwater world!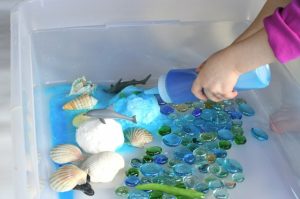 Photo Credit: https://bit.ly/3QcEo1n
What you will need:
• Clear plastic box, create or tub.
• Blue food dye.
• Stones & Seashells.
• Sand.
• Plastic sea creatures.
All you need to do:
- Set down a towel.
- Partially fill a clear box or tub with water.
- Set out all your accessories and let your child's imagination run free!
Love,
The Front Row Team x