September is fast approaching!
For many children, a new school year often comes with a lot of excitement, while for others it may seem a little daunting- especially now that after many tumultuous years, virtual learning may be the new normal for many children.
Help drum up some excitement and ease the transition back into school life with some fun back-to-school-inspired arts and crafts!
Recycled Monster Pencil Holders
Re-use your old shampoo bottles to create these fun new additions to your child's learning or creative space!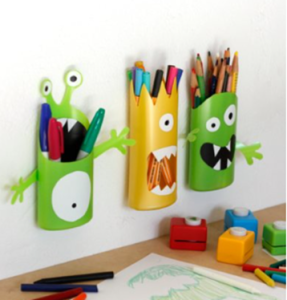 Photo Credit: https://bit.ly/3Pc5ioT
What you will need:
• Empty & Clean Shampoo Bottle.
• Black & white Paper cut-outs for eyes (Or googly eyes.)
• PVA Glue.
• Scissors.
• Double-sided sticky tape (Optional.)
How to make them:
1. Remove the label from the shampoo pot and draw the monster's eyes, mouth, and head.
2. Cut the monster's head with scissors and 4-Draw the arms of the monster. Draw one on each side of the top of the pot and cut it out.
3. Glue arms on the back of the monster. Use glue that is suitable for plastic.
4. Cut the paper to make eyes and mouth to add to the bottle (or add the googly eyes)
5. To fix the wall, use double-sided tape.
Monster Bookmarks
These simple bookmarks are perfect for your little ones to use in school or at home to help them pick up where they left off!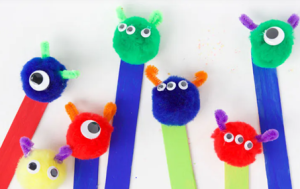 Photo Credit: https://bit.ly/3QtP3nT
What you will need:
• Large Pom Poms.
• Large Popsicle Sticks.
• Googly Eyes.
• Pipe Cleaners.
• Paint.
• Hot Glue Gun or Craft Glue (Adults Only).
How to make them:
1. Paint your popsicle stick any colour you want!
2. Next, glue some googly eyes on large pom poms.
3. Cut some pipe cleaners to about 1 inch in length. Curl the edges around a pen or pencil.
4. Glue the pipe cleaners to the Pom-Pom. Hot glue works best for this step.
5. Finally, hot glue the Pom-Pom onto the popsicle stick.
6. Pop your popsicle monster in your favourite book and you are good to go!
Back-to-school crafts paper clips:
Dress up your boring paper clips with this funky little craft trick!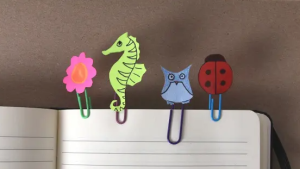 Photo Credit: https://bit.ly/3zBcdSE
What you will need:
• Paper clips.
• Colour paints.
• Paper.
• Pencil.
• Scissor.
• Glue.
How to make:
1. Paint paper clips bright paint and let dry.
2. Meanwhile, take white paper or colour paper, dry funny shapes, or outline cute looks such as spiders, cockroaches, gum, etc.
3. Cut it as required.
4. Paint or colour your paper creation.
5. Stick them to the paper clip, and voila!
Recycled Cardboard tube desk cady.
Add a little organisation to your child's school desk or home study space with this funky desk caddy!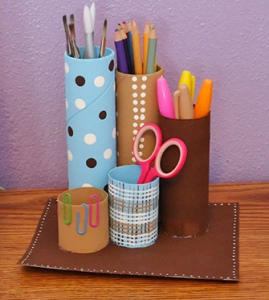 Photo Credit: https://bit.ly/3QdIZ3o
What you will need:
• 3-4 recycled cardboard tubes from toilet rolls, paper towels etc.
• 8x8 inch piece of the cardboard cereal box, back of writing pad, etc.
• Toothpick.
• Paint Brush.
• Decorations (Paint, glitter, stickers etc.)
• PVA Glue.
• Hot Glue (Adults Only.)
How to make:
1. Cut cardboard tubes into varying lengths. (Top tip: short ones are great for pushpins or paper clips, while taller ones are ideal for paintbrushes or pens.)
2. Paint cardboard tubes with your base colour.
3. Decorate any way you like! (Top Tip: The handle end of a paintbrush is great for adding polka dots & a toothpick is perfect for tiny dots.)
4. Hot glue the tubes to the base 8x8 inch piece.
Wool-Wrapped Letter Bookmarks
Say goodbye to dog-eared pages with these cute and stylish wool-wrapped bookmarks!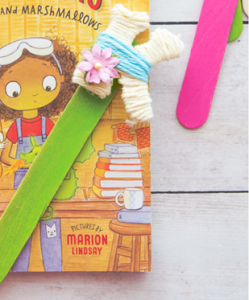 Photo Credit: https://bit.ly/3QrZOYB
Here is what you need:
• String or wool – Colour of your choice.
• Small Wooden Letters. (Available at Amazon, The Range or Art & Hobby.)
• Hot glue (adults only.)
• PVA Glue.
• Craft sticks/ or popsicle sticks.
• Paint.
• Decorations: Glitter foam paper, confetti glitter, embellishments (i.e. felt flowers.)
• Scissors.
How you make them:
1. Select your string or wool.
(Top Tip: Pick multiple colours for a more challenging design).
2. Start on one area of the letter to wrap. Glue the yarn down to the edge to start and let it dry. Wrap it in sections. Go slowly and glue as you go to ensure the yarn sticks to the letter.
3. Glue on a small embellishment to customize your letter!
4. Hot glue your letter onto your craft stick. You can buy coloured craft sticks, or you can paint plain ones with acrylic paint.
Love,
The Front Row Team x